Amazing Memphis Style Wagyu Ribs Recipe from BBQ Heroes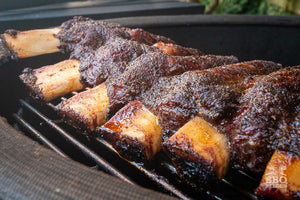 At some point, you will notice that the meat has pulled back from the ribs. The ribs are ready from that moment on, and you decide how tender you want the ribs to be.



Ingredients
For the dry rub
4 tbsp paprika powder
4 tbsp brown sugar
1 tbsp salt
1 tbsp granulated garlic
2 tsp celery seed
2 tsp cayenne pepper
1 tbsp freshly ground black pepper
2 tsp granulated onion
2 tsp thyme
2 tsp dried oregano
2 tsp mustard powder
For the mop sauce
100 ml apple cider vinegar
100ml water
2 tbsp of the above dry rub
Instructions
Remove the membrane from the ribs side of the meat. Insert a blunt knife between a rib and the membrane and push the membrane loose until you get a finger underneath. Then pull the membrane off.
Mix the ingredients for the rub and spread an even layer over all sides of the meat. Keep at least 2 tablespoons aside for the mop sauce.
Prepare your grill with an indirect temperature of about 160°C (320F).
Place a block of smoke wood on the charcoal when the temperature in the grill is stable. Place the ribs on the grates and close the lid.
Now you can make the mop sauce by mixing the vinegar, water and the dry rub. Warm the sauce slightly to allow the sugar to dissolve. Then take it off the fire.
After 2 hours, and when the dry rub has formed a nice crust on the meat, we start mopping. Do this every 20 minutes until the ribs are to your liking.
Check the doneness of the ribs by poking a toothpick or your thermometer probe into the meat. If it goes in and out without too much resistance, the beef ribs are ready.
Let them rest for 10 minutes before slicing them.