Bavette Truffle Steak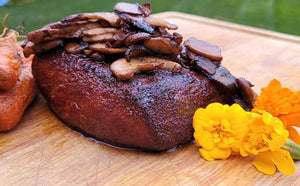 Download Bavette Truffle Steak Recipe
Ingredients
1 TBS Butter
1 lb ground wagyu beef
3 carrots chopped
2 stalks of celery chopped
1 medium onion chopped
2 cloves garlic chopped
½ tsp salt
½ tsp pepper
4 cups beef stock or both
2 cups cooked farro
Directions
Preheat smoker to 225-250F.
Place 1 chunk of Hickory wood in Coal bed.
Season Bavette Steak with a 50/50 blend of coarse sea salt and coarse black pepper and a light coating of granulated garlic.
Place Bavette Steak over indirect heat on the smoker until the internal temperature is 115F.
Heat a cast iron skillet and melt truffle butter and truffle oil.
Place sliced mushrooms in the cast iron skillet and sauté for 2-3 minutes. Remove mushrooms and set aside.
Turn the cast iron skillet to high. Add 2 tablespoons more of truffle butter.
Take fresh thyme sprigs and quickly baste them in the heated truffle butter for 10 seconds.
Add Bavette steak into cast iron. Sear on both sides for 1-2 minutes. Continuously spread pan drippings over the steak as it sears, using the thyme sprigs.