Braised Wagyu Beef Short Ribs with Hot Top Infusion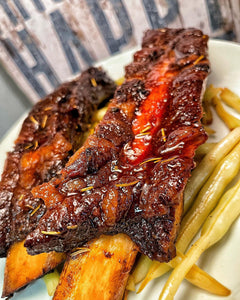 Braised Wagyu Beef Short Ribs with Hot Top Infusion
Prep Time: 20 minutes Cook Time: 3 hours Serves: 4-6
Ingredients:
4-6 pieces of Wagyu beef short ribs (about 3-4 pounds)
Salt and freshly ground black pepper
2 tablespoons vegetable oil
1 large onion, chopped
3 cloves garlic, minced
1 cup beef or chicken broth
1 cup red wine (such as Cabernet Sauvignon)
1/4 cup soy sauce
1/4 cup brown sugar
2 tablespoons gochujang (Korean hot pepper paste)
1 tablespoon tomato paste
1 tablespoon sesame oil
1 teaspoon grated ginger
1 teaspoon five-spice powder
2 dried bay leaves
1 cinnamon stick
1 star anise
Hot Top Infusion:

2 dried red chili peppers
1 teaspoon Sichuan peppercorns
1 teaspoon red pepper flakes
1 teaspoon sesame seeds
1 teaspoon grated orange zest

Fresh cilantro leaves, for garnish
Toasted sesame seeds, for garnish
Sliced green onions, for garnish
Instructions:
Preheat the oven to 325°F (160°C).

Season the Wagyu beef short ribs generously with salt and freshly ground black pepper on all sides.

Heat a large, oven-safe Dutch oven or braising pot over medium-high heat. Add the vegetable oil and sear the short ribs until browned on all sides, about 2-3 minutes per side. Remove the short ribs from the pot and set aside.

In the same pot, add the chopped onion and sauté until softened and translucent, about 3-4 minutes. Add the minced garlic and grated ginger, and sauté for another 1 minute until fragrant.

Pour in the beef or chicken broth and red wine, using a wooden spoon to scrape up any browned bits from the bottom of the pot.

Stir in the soy sauce, brown sugar, gochujang, tomato paste, sesame oil, five-spice powder, bay leaves, cinnamon stick, and star anise. Mix well to combine the flavors.

Place the seared Wagyu short ribs back into the pot, ensuring they are submerged in the liquid. If needed, add more broth or wine to cover the ribs.

Prepare the Hot Top Infusion by combining the dried red chili peppers, Sichuan peppercorns, red pepper flakes, sesame seeds, and grated orange zest in a small bowl.

Sprinkle the Hot Top Infusion evenly over the short ribs in the pot.

Cover the pot with a tight-fitting lid and transfer it to the preheated oven. Let the short ribs braise for about 2.5 to 3 hours, or until the meat is tender and easily pulls away from the bone.

Once the ribs are done, carefully remove the pot from the oven. Skim off any excess fat from the surface of the braising liquid.

Serve the braised Wagyu beef short ribs over cooked rice or mashed potatoes. Ladle some of the flavorful braising liquid over the ribs.

Garnish with fresh cilantro leaves, toasted sesame seeds, and sliced green onions.

Enjoy your delicious Braised Wagyu Beef Short Ribs with Hot Top Infusion, a perfect blend of tender meat and bold, spicy flavors!
Note: Adjust the level of spiciness according to your preference by adding more or less of the Hot Top Infusion ingredients.