Chimichurri Steak Recipe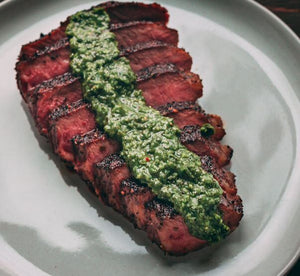 Try something new! The perfect homemade sauce for Wagyu Beef, a classic Chimichurri. Built on fresh ingredients including: parsley, garlic, red wine vinegar, oregano and olive oil, this recipe is sure to be a crowd favorite.
Ingredients
2 cups Italian parsley
3 cloves garlic
1/2 cup extra virgin olive oil (adjust to consistency preference)
2 tablespoons red wine vinegar
1 lemon, juiced
1/2 teaspoon red chili flakes
1 tablespoon oregano -Salt to taste -Pepper to taste
Directions
Add all ingredients into a food processor (except olive oil), or finely chop by hand.
Slowly add olive oil until preferred consistency. Taste and adjust salt and pepper as preferred.