Feijoada (Brazilian Black Bean Country Stew)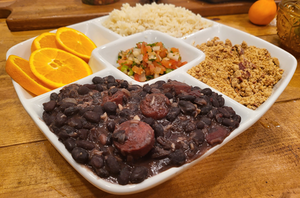 Feijoada (Brazilian Black Bean Country Stew)
Time to Prepare

15 mins

 

Cook Time

4 hours

Serving

4 People

 

Prepared by

BLUE SMOKE BLAIRE
Ingredients

 

Steps to Cook

 

 

 

1 Pack Mason Hill Wagyu Hot Dogs

1 Pack Mason Hill Wagyu Beef Bacon

3 Cans of Black Beans

1 White Onion

6 Cloves Garlic, Minced

2 Bay Leaves

1 Tablespoon Coarse Salt

1 Tablespoon Coarse Black Pepper

2 Teaspoons Granulated Garlic

1 Carton Beef Broth (16oz)

White Rice

Sliced Oranges

Farofa or Bread Crumbs

*farofa is cassava flour and can be found at a specialty store.

 

1)       Place black beans in crockpot with beef broth and turn on high.

2)      Fry beef bacon in skillet and save drippings

3)      Cut beef hotdogs into medallions and saute in bacon drippings

4)      Set hotdog medallions aside

5)      Saute onions and garlic in drippings and immediately scrape into crockpot.

6)      Add salt, garlic, bay leaves, and pepper into crockpot and stir.

7)       Roughly chop bacon and scrape into crockpot then add hotdog medallions.

8)      Reduce crockpot to low and allow to simmer for 4 hours.

9)      Add farofa/breadcrumbs into crockpot to thicken stew if too runny and stir well.

10)   Serve over rice and garnish with orange slices and farofa.