Hungarian Potato Wagyu Beef Soup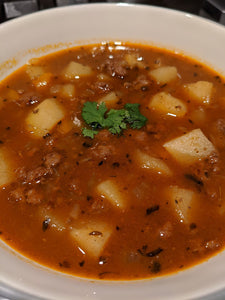 Ingredients
1 pound MHC Ground Wagyu Beef
1 Large Onion, diced
1 Bell Pepper, Chopped
2 Tablespoons Flour
3 – 4 large potatoes, chopped ½ in size
4 Tablespoons Hungarian Paprika
¼ teaspoon Cayenne
2 tablespoons dried Marjoram 
1 tablespoon caraway seeds
2 pinches salt
1 tablespoon tomato paste (2 if you like)
3 cups beef broth
3 cups hot water
Directions
Set a large pot over moderate heat. Add the Mason Hill Cattle Ground Beef and cook, stirring to break it up, until the meat is no longer pink, about 2 minutes.
Reduce heat, add Onion & Bell Pepper and cook stirring occasionally until the vegetables start to soften, about 10 minutes. Stir in the flour and cook for 1 minute.
Add the potatoes, paprika, cayenne, marjoram, caraway seeds, salt, tomato paste, broth & water. Bring to a boil then reduce heat to simmer until the potatoes are tender, about 10 minutes.
Serve up with a nice Japanese Milk Bread Roll.