Mason Hill Cattle Recipe for Smoked Garlic Herb Crusted Wagyu Chuck Roast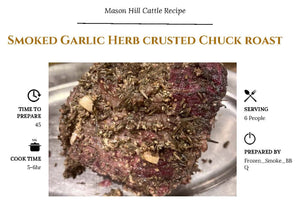 TIME TO PREPARE:45 minutes
COOK TIME 5-6hr
SERVING 6 People
RECIPE PREPARED BY Frozen_Smoke_BBQ
Ingredients

| | |
| --- | --- |
| 1 Chuck roast |   |
| 1 head Garlic | 1 tablespoon kosher salt |
| 1 sweet onion chopped | ½ tablespoon black pepper |
| 2cups Beef broth |   |
| ¼ oz Oregano |   |
| ¼ oz Thyme |   |
| ¼ oz Rosemary |   |
| 3tbs Worcestershire |   |
| 3 tbs Dijon mustard |   |
| zest of an orange |   |
Steps to Cook

1)      Remove the roast from the package, dry it off and remove the netting(keep it for later).
2)      Remove the herbs from the stem , chop them up very fine.  Remove the garlic peels anf slice into thin slices. Slice your onion into ¼ inch slices.
3)      Mix the Worcestershire, Dijon, salt, and pepper in a bowl.
4)      Place small slits in the meat every inch. Place a piece of garlic in each. Do this on both sides of the meat.(if you don't like as much garlic it's ok to go every 2 inches).
5)      Spread the Worcestershire mixture on the roast, followed by the herb mixture. Make sure to give it a good pat to make sure the mixture stays on.
6)      Very careful expand the netting and place it back on the roast. Replace the herbs that have fallen off.
7)      Smoke the roast uncovered for 2 hrs at 225.
8)      After the 2 hrs place the roast in a cast iron pan with a lid. Put half of the slices onion on the bottom of the pan and the other half on top of the roast. Place your beef stock in the bottom of the pan. 
9)      Turn up the temp to 275.  Continue cooking for 2 ½ to 3 hr or an internal temp of 198 if you like slices or 205 for shredded.  Remove from the heat and let rest 30 min in the pan. 
10)   Slice or shred. Drizzle the pan juice over the top and enjoy.