Mason Hill Cattle Wagyu Beef N Guiness Stew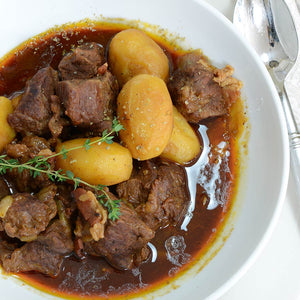 Ingredients
2 lbs Wagyu beef stew meat (MHC Stew Meat is Pre-diced)
4 tbsp. butter
1 large sweet onion, chopped
3 raw strips of bacon, chopped into 1/4 inch strips (Try MHC Beef Bacon)
2 tbsp. tomato paste
2 tbsp. all-purpose flour
1 Guinness Extra Stout beer
3 cups beef stock
6 small yellow potatoes, washed, peeled and uncut
1 tbsp. dried marjoram
½ tbsp. dried oregano
Salt and pepper to taste
Hearty bread
Directions
Heat a large pot or Dutch oven and melt the clarified butter on medium-high. Add the MHC Wagyu Beef stew meat and brown, stirring to make sure all sides are cooking evenly. Remove the meat from the pot, leaving the butter and oil drippings.
Toss in the onions, bacon, tomato paste and flour to the pot, stirring with a wooden spoon making sure the onions don't burn. Once the onions become transparent - about 3 to 5 minutes - reduce fire to low and simmer. Add the beer and beef stows slowly - this will prevent flare ups. Continue to stir until combined.
Toss in the browned beef stew meat, plus add the potatoes, marjoram, oregano and salt and pepper to taste. Cover and continue to simmer for 2 to 3 hours or until beef is tender and pulls apart with a fork.