Mississippi Meatballs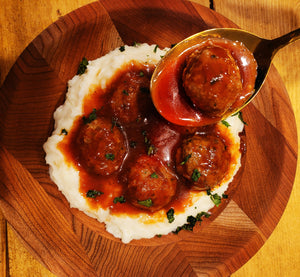 Download Mississippi Meatballs Recipe
Ingredients
1TBS Butter
2 Cups Bread Crumbs
2 Pounds Wagyu
Groundbeef
2 Eggs
3 TBS Onion Powder
2 TBS Parsley
1 Cup BBQ Sauce
1 Jar Peach Preserves
Directions
Preheat oven to 350 degrees
Mix barbecue sauce and peach preserves together.
Combine meat, breadcrumbs,butter, eggs, onions, salt, and parsley. Form into bite-size balls. Arrange the balls in a single layer in a baking dish. Pour the barbecue sauce mixture evenly over the meatballs.
Bake for 30 to 45 minutes, until the meat is cooked. Serve over mashed potatoes or toasted French bread.