Smoked Wagyu Short Ribs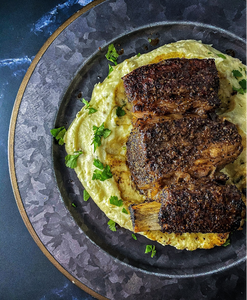 Download Smoked Wagyu Short Ribs Recipe
Ingredients
1 plate Individual or a plate of any beef short ribs any Any Beef seasoning you enjoy
4 Potatoes
1/2 Cup Sour Cream
Salt and Pepper To taste
3 Garlic cloved minced
1 stick Any butter unsalted
Directions
Pre heat your smoker or Grill to 250 degrees
Take the Beef ribs and score the membrane and take any hard fat off the meat side.
Season all sides of your short rib and place on your grill/smoker until they hit 160 degrees Internal Temperature
Remove from your grill/smoker and wrap in heavy duty aluminum foil and place back on until they hit 205 Internal
While you're on this last stage of your short ribs it is time to make your mashed potatoes.
Peel all 4 large Potatoes and submerge them into boiling water
Once the Potatoes start to break apart removed and add into a separate bowl
Add the garlic and stick of butter.
Smash the Potatoes until combined well at the end add the sour cream and salt an pepper to taste
Plate, top with the short ribs and finish with a little minced cilantro.