Wagyu Beef And Farro Soup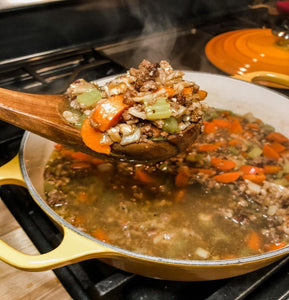 Download Wagyu Beef And Farro Soup Recipe
Ingredients
1 TBS Butter
1 lb ground wagyu beef
3 carrots chopped
2 stalks of celery chopped
1 medium onion chopped
2 cloves garlic chopped
½ tsp salt
½ tsp pepper
4 cups beef stock or both
2 cups cooked farro
Directions
Heat a large pot or Dutch oven over medium heat. Add the beef, salt and pepper. Cook until browned, 4-5 minutes. Leave rendered wagyu fat in the pot after browning.
Add the carrots, garlic, celery and onion. Cook until softened, 4-5 minutes stirring frequently.
Add the farro and beef broth. Increase heat to high until it reaches a boil. Reduce to a simmer and cook with the lid on for 15 minutes. Taste and season with more salt and pepper if
desired.