Wagyu Beef Chuck Roast Stew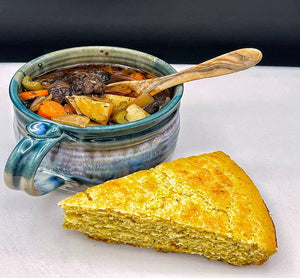 Download Wagyu Beef Chuck Roast Stew Recipe
Ingredients
2-3 Pounds Wagyu Beef Chuck Eye Roast
5 Large Cloves Garlic, peeled and minced
2 Large Onions Chopped
2 Cups Red Wine
5 Cups Beef Broth
3 tbsp Tomato Paste
3 tbsp Red Wine Vinegar
2 Large Bay Leafs
½ Cup Flour
3 tsp Dried Thyme
3 tsp Salt
2stp Pepper
2 Bundles Carrots sliced
5 Large Potato's cut into chunks
1 Bundle Celery sliced
1 tbsp Oil "For browning the meat" Oven Use only
Directions
FOR THE SMOKER

Cube Wagyu into 2in cubes or slice into thin strips
Turn on Smoker to 200
Oil, Salt, Pepper Wagyu
Place on a rack that will sit above the pot.
Add Beef Broth, Red Wine, Red wine vinegar, Bay Leafs, Dried Thyme, Salt/Pepper, Tomato Paste, Garlic, Onions and after everything is dissolved slowly mix in the flour.
Let this simmer on the stove for about 5 minutes before putting it in the smoker.
Place pot of stock on the smoker under the meat. You want the meat drippings to go into the stock.
Remove Wagyu after 3.5 hours of smoking
Cut into smaller bite size chunks
Add Meat, Carrots, Celery and Potato's to the pot. "May need a bigger pot.
At this point you can leave on the smoker or move the pot inside on the stove. "I moved inside because it has a lid now"
Set stove top on 5/6 and let it simmer until the veggies are soft.
Serve with a glass of wine with some bread

FOR THE OVEN

Do everything the same except Brown your meat with oil in the pot 1 st .
Take Meat out after it has browned, add everything to the Pot like above.
Add meat back into pot when everything has dissolved.
Cook on 5/6 for 3 hours and then add veggies for 1 hour.