Wagyu Beef Flank Steak Carne Asada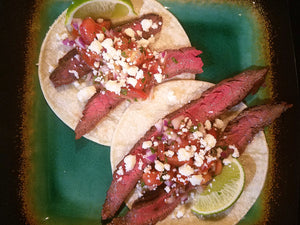 Marinade Ingredients
1 x 2lb Mason Hill Cattle Wagyu Beef Flank Steak
3 x Navel oranges - juiced
2 x Lemons – juiced
2 x Limes - juiced
1 x Jalapeño – minced (remove seeds)
4 x Garlic cloves – minced
1 x 11oz bottle Full Sail Sesión Cerveza Mexican Style Lager
½ cup fresh cilantro – chopped
¼ cup olive oil
½ tbsp ginger paste or freshly chopped ginger – minced
½ tsp kosher salt
¼ tsp black pepper
Serving Ingredients
Don Pancho white corn tortillas
Freshly made Pico De Gallo
Lime wedges
Avocado slices
Don Froylan Queso Fresco
Directions
In a medium sized mixing bowl combine orange juice, lemon juice, lime juice, minced jalapeño, minced garlic, beer, chopped cilantro, olive oil, ginger, kosher salt and pepper.
Place flank steak into a 1-gallon Ziploc bag. Mix ingredients in bowl and pour into bag with flank steak.
Squeeze bag to make sure ingredients are mixed thoroughly. Place bag in refrigerator for 4 hours, rotating bag every half hour or so.
Remove flank steak from refrigerator and let reach room temperature before grilling.
Preheat your Green Mountain Grills to 500°. I chose to cook my flank steak on a cast iron griddle on the smoker.
Once steak has reached room temperature and your Green Mountain Grills has reached the set temperature it's GRILLING TIME!!
Brush a light layer of olive oil on the cast iron griddle before applying the flank steak.
Place flank steak on grill and let cook for 5-8 minutes per side, cook time will depends on steak thickness.
Flip flank steak once and pull at 125° internal temperature for medium rare tenderness.
Let rest for 10 minutes, slice into thin strips against the grain.
Great ready to enjoy the best Carne Asada!!