Wagyu Flank Steak Braciole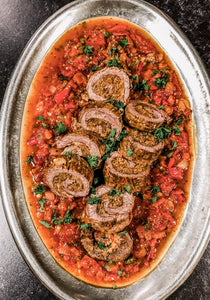 Download Wagyu Flank Steak Braciole Recipe
Ingredients
1 ½ - 2 lb Wagyu Flank Steak
4 Tomatoes chopped ( or an 15 oz can of chopped tomatoes)
2 garlic cloves chopped
½ cup breadcrumbs
½ cup parmesan cheese
3 roasted red peppers chopped
1 medium onion chopped
½ teaspoon each salt & pepper
¼ cup chopped fresh parsley
¼ cup capers olive oil
Directions
Mix together breadcrumbs, parmesan and half the parsley
Butterfly flank steak and flatten. event coat the steak with breadcrumb mixture. Roll up longways like a jelly roll and secure with toothpicks or twine. Salt and pepper the outside.
In a searing hot braising pot with lid sear the steak roll on all sides.
Remove meat and set aside. In the same pot saute onions and garlic in a bit of olive oil. Add peppers and tomatoes with liquid to deglaze.