Wagyu Heart Kebabs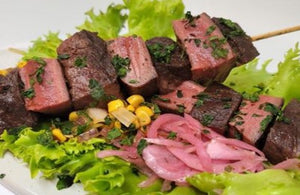 Download Wagyu heart kebabs Recipe
Ingredients
1 Wagyu Beef Heart
1/2 Cup Squeezed Lemon Juice
2 TBS Red Wine
1/4 Cup Chopped Parsley
3 TBS Chopped Garlic
2 TBS Oregano
1/2 Cup Olive Oil
1 TSP Salt & Pepper
Directions
Whisk together the olive oil, red wine vinegar, lemon juice, parsley, oregano, garlic, cumin, salt and pepper. Pour into a ziploc bag​.
Place cubed heart pieces into the ziploc bag and let rest for 15 minutes.
Heat a cast iron pot with oil to medium-high heat.
Sear kebab meat for 6 minutes, turning the meat every 2 minutes, so they cook evenly, until the steak reaches an internal temperature of 150 degrees. Use the remaining marinade to brush on the kabobs as you cook.
Place cooked kebab meat onto skewers. Garnish with oil and chopped parsley.