Wagyu Picadillo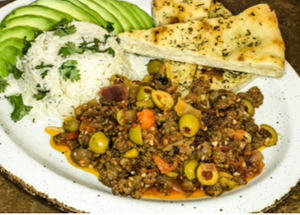 Download Wagyu Picadillo Recipe
Ingredients
1/2 large red onion
2 cloves garlic minced
2 tomatoes chopped
1/2 cup roasted red peppers chopped
2/3 cup chopped green olives
1/4 cup olive Juices
4 tbsp cilantro chopped
1 lb ground wagyu beef
1/2 tbsp cumin
1 bay leaf
1/2 tsp black pepper
1/2 tsp salt
Directions
Brown meat on high heat in a cast iron dutch oven (with lid) and season with half the salt and pepper. Use a spoon to break up the meat as it browns.
While meat is cooking, chop onion, garlic, pepper, tomato and cilantro.
Add these to the meat and lower heat to medium. Add olives and brine from the olives, cumin, ​bay leaf, remaining salt and pepper.
Lower heat to simmer and cover for 20 minutes.
Remove bay leaf. Serve with rice and warm flatbread for dipping.