A Free Valentines Gift for You. Plus 15% Off All Wagyu (Newsletter 2/08/22)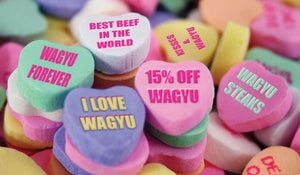 Our Valentine to you
15% OFF ALL WAGYU 
Everything on our site is on sale! No exclusions.  The sale starts this Friday at 9 am & ends at Midnight on the 13th. Get your mouthwateringly delicious Wagyu Now.  
Use code VAL15 at checkout. 
+ FREE
Redmond Real Salt
Each order until the Superbowl will receive One Free Redmond Real Salt. Make your Wagyu stand out even more with Redmond Real Salt. 
February 13th & 14th this year gives
you two chances to Serve Wagyu Beef
So many delicious Wagyu options to choose from.

STEAKS, ROASTS, BRATS, BURGERS, and More.
Order your Premium Wagyu Today. 
Your Superbowl Party MVP, Wagyu Beef. 
Upgrade Your Super Bowl Party with 

Masonhill

 Cattle's Wagyu Beef
This Super Bowl Sunday, add a little swagger to your game day festivities. Serve mouth-wateringly delicious Wagyu beef from Masonhill Cattle. Impress your friends, blow away your rivals. It's easy to score touch down after touchdown with the best-tasting beef in the world,
WAGYU for the win!
 The Perfect Valentine's Dinner Starts with Wagyu
Masonhill Cattle's Premium Wagyu Steaks are the key to a perfect dinner date this Valentine's Day.
Eliminate the guesswork with our Super Bowl play-by-play guide for an all-around perfect romantic evening.

View our Play by Play Valentines Dinner Guide Below or see other great recipe ideas on our website. www.MasonhillCattle.com
SERVE THE BEST BURGERS EVER. WAGYU BEEF BURGER
ON SALE NOW. 
Your main course: Wagyu Beef
The easiest way to take your diner over the top is with Wagyu Beef. Coming from legendary Japanese cattle bloodlines and raised to the highest standard of care,

Masonhill

Cattle's Wagyu Beef produces mouth-wateringly delicious steaks that are unmatched in their marbling, texture, and flavor.
The only question to be asked is which steaks to cook and how to cook them.
A great option is a Wagyu strip steak cooked over high heat. See our Chimichurri Steak Recipe below, (Wagyu Ribeyes would also work well for this recipe.) The richness of the butter and chimichurri complement the beefiness of the Wagyu with delicious nutty and herbaceous flavors.
If you're worried you might be distracted from your chef's duties by your significant other? Then you could try this quick and easy option. A reverse sear recipe with our Wagyu Eye of Round recipe. The reverse sear begins with cooking the Wagyu in the oven first to reach a perfect temp on the inside. Then you finish on a hot cast-iron pan. This creates that perfect brown crust on the outside. 
If you're looking for something a little more outside-the-box, something that will show off your culinary chops, consider our Bavette Truffle Steak recipe. 
Or try our amazing Wagyu Meatloaf Recipe.  Serve with garlic mashed potatoes, and you have a dish that can hold up to any steak any day, so full of love, especially great on Valentine's.
Make sure to Set the Mood
Create the right kind of ambiance to let your Significant Other know that this isn't just any other regular evening. It's a Wagyu Beef kind of evening. Luxurious and over the top.
Give your date the royal treatment with a memorable meal featuring Wagyu Beef.
This week's feature recipe.

 


Wagyu Meatballs Recipe
Try something new! The perfect homemade
Wagyu Meatballs. So good!
Recipe



 Sauce
1/4 c brown sugar
1/3 c @Mikes hot honey
1 tsp Chipotle sauce @bendsauce
1/2 c ketchup
1 Tbsp minced garlic



 Meatballs
2 lb ground Wagyu @masonhillcattle
1 med onion minced
1 Tbsp minced garlic
1/2 c dry bread crumbs
1 egg
1 1/2 Tbsp Worcestershire sauce @the_w_sauce
1c shredded zucchini
1 tsp parsley
2 Tbsp soy sauce
1 1/2 Tsp Better Burger seasoning (garlic, pepper, butter)
1 1/2 King Shallot seasoning (black garlic)
1 Tbsp minced garlic @psseasoning


️ Mix it all together
Form into balls
Set onto baking sheet lined with parchment & place in the freezer for 25 minutes
Remove and reshape so they maintain their round edges & stay together while cooking.
Place on a baking sheet with a rack and grill at 375°F 30-40 min until edges are brown & internal burger hits 160°
Pour the sauce over the meatballs and serve as you wish & enjoy!!
.
*adjust based on spice tolerance. The sauce is enough to coat the meatballs. Double that sauce recipe if you want to serve a "dip" or drizzle more over sandwiches.
Share your plate with @MasonhillCattle Wagyu on it for your chance to win special prizes and discounts. Tag us with your deliciousness.
Gift Cards
Help your friends and family eat better for 2022. Give them a gift card for WAGYU BEEF from MasonHillCattle.com.  If they've never tried before. Open up their world to the health benefits of Wagyu .