A Healthy New You with Masonhill Cattle's WAGYU (01.07.2022 Newsletter)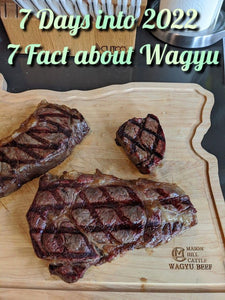 A Healthy New You with MHC's WAGYU
Wagyu is a healthier choice when it comes to beef. Make sticking to your New Years Resolution easy and delicious by eating Healthy Wagyu. 
New Years Resolution. Eat Healthy with Wagyu
Wagyu beef is extremely rich in monounsaturated fatty acids and contains all of the essential amino acids, including omega-3 and omega-6 fatty acids. Essential fatty acids such as these are believed to lower risk of cardiovascular disease, cancer, Alzheimer's and other conditions.
1. The meaning behind "Wagyu"
Wagyu simply means Japanese cow. One of the main features that distinguish Wagyu from other beef is its white marbling as shown in the picture below.
Just look at the marbling.  Delicious!
2. Our Wagyu are treated like kings.
To get a perfect quality Wagyu beef, MHC treats our Wagyu like real kings. First, the ranch is located far from any crowds to create a stress-free environment for the cows. To ensure their happiness and stress-free life makes for better-tasting beef. 
3. Wagyu probably eats healthier than most of us
You don't feed these cattle as you would normally do with other cows. Our Wagyu are probably eating healthier than most of us :)
4. In Japan Wagyu drinks alcohol!
The special treatment does not stop there, some Wagyu cattle are fed with sake (the famous Japanese beer)! Feeding them with beer will increase their appetites, and thus will also increase their levels of marbling fat. These extensive care and treatments make Wagyu beef a prima donna among meat lovers. But worry not as Masonhill Cattle Wagyu are not fed with beer or alcohol, but they taste as delicious.
5. Wagyu beef is full of nutrients
Not only famous for its taste. Wagyu beef is also known for its high nutrient. It contains fatty acids known as Shimofuri that are rich in Omega-3 which has good cholesterol and is healthy for our heart. Besides that, it also contains 30% higher unsaturated fat than normal beef. This high level of unsaturated fat gives an exceptional savory flavor to Wagyu beef.
6. The best grade of Wagyu is A5
Wagyu has to pass a strict grading system. The highest possible grade is A5 Wagyu Beef.
7. There are imitation Wagyu products.
There are plenty who apply the term Wagyu Beef to their product even though it's not the real thing. MHC only offers real Wagyu Beef. 
And That was your
7 days into 2022s,
7 facts about Wagu
Share your plate with @MasonhillCattle Wagyu on it for your chance to win special prizes and discounts. Tag us with your deliciousness.
Gift Cards
Help your friends and family eat better for 2022. Give them a gift card for WAGYU BEEF from MasonHillCattle.com.  If they've never tried before. Open up their world to the health benefits of Wagyu .
| | | |
| --- | --- | --- |
| Free Shipping on Orders over  $199.00 | | |
Thank you for being a member of the HERD.  
Being a member of the Herd gets you exclusive early access to our Wagyu inventory before it sells out.   We appreciate you being a part of our Wagyu family. Look for advance emails for select Wagyu available to members of The Herd first. Coming soon!