Is your Wagyu Real Wagyu... There are many types of Wagyu in the US.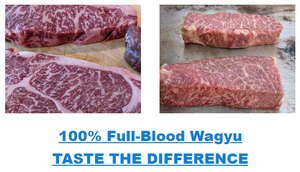 There are many types of Wagyu in America. From Fullblood to American Wagyu that is crossbred with a USA cow. While crossbred can still be good, there is only one True Wagyu that gives you that legendary marbling, and great taste. That winner is Fullblood Wagyu
. Genetically it's 100% Wagyu from Japan. At MasonhillCattle we raise only Fullblood Wagyu at our beautiful ranch in Oregon. We follow strict rules in how they are raised. With Love, Respect, and Honor. Fullblood Wagyu are fed a strict, very special diet and given as stress-free of a life as we can provide. All of these steps help us provide the best Beef on the planet, 
Authentic Fullblood Wagyu
.