It takes more than genetics to bring real 100% Premium Wagyu to your door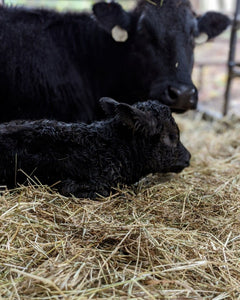 At Mason Hill Cattle (MHC), we believe in the natural production of Wagyu beef, free from growth hormones or steroids. Our commitment to quality begins with our cattle, we only raise 100% Full Blood Tajima Wagyu. Genetically the same breed Kobe Beef demands. There is a reason for this. Many Wagyu breeds are out there, but there is one clear winner for the best marbling and best taste. Tajima Wagyu. Sought after as the best of the best.

It takes more than genetics to bring real Wagyu to market. @Masonhillcattle we follow strict traditions and special MHC processes to bring to the market Beyond Prime Premium Wagyu Beef. We humanely raised our Wagyu on lush Oregon pastures and nurture with a well-balanced, nutrient-rich diet. Our Wagyu live as stress free as possible. They are treated like royalty and get the respect they deserve for such a noble cause. our food. The result? Top-tier, beyond prime grade Wagyu beef that we are proud to offer to you and your family.
With just one taste of our carefully crafted beef, you will experience the unparalleled buttery richness that sets our Wagyu apart. From an array of steaks to roasts and ground meat, we provide a variety of cuts, allowing you to select the perfect experience to share with your loved ones. Prepare to embark on a culinary journey where the complex yet smooth flavors of Mason Hill Beef create memories that last a lifetime.
Our passion for beef drives us to deliver the best part of your meal—the exceptional MHC Wagyu Beef experience. With each bite, savor the dedication, care, and craftsmanship that goes into every aspect of our product.
Explore our Variety of Cuts:
We take pride in offering a diverse selection of cuts to elevate your cooking experiences to new heights. From succulent steaks that melt in your mouth to flavorful roasts that are perfect for special occasions, we have something for everyone. Whether you prefer to grill, roast, or create culinary masterpieces, MHC Wagyu Beef is sure to impress.
Convenient Home Delivery:
To make your Wagyu Beef experience even more convenient, we provide doorstep delivery. Simply place your order, and we will carefully package your selection and bring it straight to your door. Experience the joy and convenience of savoring premium Wagyu beef without leaving your home.
Join the Mason Hill Cattle Family:
As a family business, we take pride in providing you with homegrown, exceptional beef that you can trust. We invite you to become part of the Mason Hill Cattle family and discover the unparalleled flavors and quality that our Wagyu beef has to offer.
Visit our website today at www.masonhillcattle.com to explore our selection and place your order. Experience the difference of Mason Hill Cattle Wagyu Beef—where passion, quality, and flavor come together to create an unforgettable dining experience.
Savor the Best with MHC Wagyu Beef.
www.Masonhillcattle.com