Premium Quality Wagyu Beef from Mason Hill Cattle. The best steaks you've ever tasted!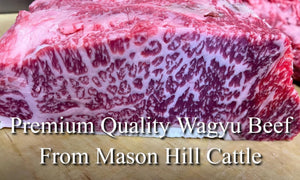 Mason Hill Cattle is a small family farm in the Pacific Northwest that raises PREMIUM QUALITY WAGYU BEEF. Always 100% full-blood Wagyu. Our cattle are humanely raised on Oregon pastures and fed a very special, well-balanced nutrient-rich diet that yields top-tier, beyond prime-grade Wagyu beef.
Mason Hill Cattle's premium quality level Wagyu Beef. It may not be an everyday meal, but it will be the best steak you've ever had! Nothing compares to MHC Premium Wagyu Beef. 
Our beef is known for its incredible marbling, tenderness, and flavor. We recently did a blind taste test video, and our beef was the clear winner. Watch the video now. 
Spring Barbecues Season
is Coming!
Spring Barbecues Season is coming…
Now that spring is here, it's time to start thinking about barbecues. And what better way to celebrate the season than with a delicious Mason Hill Cattle steak? Our beef is perfect for grilling, smoking, or pan-frying. It's sure to make your barbecue the talk of the town. Your secret ingredient. Award Winning MHC Wagy Beef for the Win!
BBQ cuts on Sale Now
For a limited time, we're offering a sale on our best bbq cuts:
·  Ribeye
·  Burgers
These cuts are all perfect for spring barbecues. So don't miss out on this opportunity to get your hands on some of the best beef in the world.


HERD MEMBERS ONLY SPECIAL. FREE MHC WAGYU TALLOW SOAP.
To Herd Members Only. Get a Free bar of our small batch, MHC Artisan Wagyu Soap with every order. This soap is made with our very own beef tallow, and it's perfect for keeping your skin soft and hydrated.

Use code Soap at checkout.