THE BEST BEEF ON THE PLANET! 100% Full Blood TAJIMA WAGYU BEEF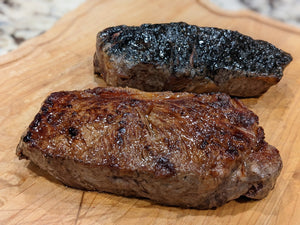 THE BEST BEEF ON THE PLANET! 
100% Full Blood
TAJIMA WAGYU BEEF

DENVER STEAKS, PITMASTER, KABOB MEAT, BEEF RIBS, BONE MARROW, BURGER, MHC HATS & MORE
Notice: All Orders placed today through Sunday February 26th will ship on Monday 2/27/23 for the freshest possible Wagyu. 
NOT ALL WAGYU IS EQUAL
Only a rare few like MHC
Raise
100% Real Full Blood Tajima Wagyu

KOBE BEEF & MasonhillCattle
both raise only 100% Full Blood Tajima Wagyu. 
Demanding a 100% Tajima bloodline means strict genetic testing is done to ensure no genes from other breeds are present in our Wagyu's DNA. Having 100% Tajima DNA, along with the special treatment we each give our Wagyu is the reason Kobe & MasonhillCattle each offer the best Wagyu Beef on the planet.
You can See & Taste the Difference.
Our Favorite Roast Recipes
Prime rib with a Wagyu Chuck Roast. Yes, a Chuckeye cooked like prime rib. The Wagyu makes all the difference. Or how about a Wagyu Beef Wellington, or a Chimichurri recipe (photo pictured)? Check out these and more recipes.  
The Legendary Sacred Genetics along with the way they are raised. From special feeds to animal-centric stress-free treatment. Our Wagyu never receives growth hormones or factory farm processes. Wagyu are to be slow-raised, never to be on a factory farm. There are many that say WAGYU on their labels, but are they real Wagyu?
WHAT MAKES WAGYU SO SPECIAL?
Our Wagyu are raised there right way! 
At MHC we raise only 100% genetically full-blood Tajima Wagyu. From the sacred Tajima Bloodline. The same Tajima lineage Kobe beef demands. Kobe's Tajima Wagyu are raised in Kobe Japan and MasonHill Cattle's Tajima Wagyu is raised in Oregon. Both Kobe and MHC raise their Wagyu in the Wagyu traditions. Feed and Treatment are central to providing the best life possible our their Wagyu. This makes a difference in the quality of the Wagyu produced. The best on the planet!