WAGYU BEEF. YOUR POT OF GOLD THIS ST PATTYS DAY.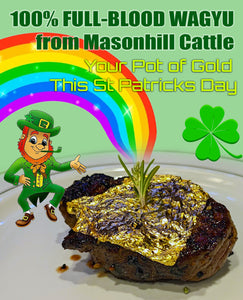 100% FULL-BLOOD PREMIUM WAGYU
From Our Farm to Your Door. 
WE HAVE THE WAGYU!
ALL WAGYU JUST RESTOCKED
YOUR LUCKY CHARM THIS ST PATRICKS DAY.
 WAGYU CHUCK EYE <SHOP NOW
INGREDIENTS
2 lbs Wagyu Chuckeye Roast    or another wagyu roast
4 tbsp. butter
1 large sweet onion, chopped
3 raw strips of bacon, chopped into 1/4 inch strips (Try MHC Beef Bacon)
2 tbsp. tomato paste
2 tbsp. all-purpose flour
1 Guinness Extra Stout beer
3 cups beef stock
6 small yellow potatoes, washed, peeled and uncut
1 tbsp. dried marjoram
½ tbsp. dried oregano
Salt and pepper to taste
Hearty bread

DIRECTIONS
Heat a large pot or Dutch oven and melt the clarified butter on medium-high. Add the MHC Wagyu Beef (cut to size) and brown, stirring to make sure all sides are cooking evenly. Remove the meat from the pot, leaving the butter and oil drippings.
Toss in the onions, bacon, tomato paste and flour to the pot, stirring with a wooden spoon making sure the onions don't burn. Once the onions become transparent - about 3 to 5 minutes - reduce fire to low and simmer. Add the beer and beef stows slowly - this will prevent flare ups. Continue to stir until combined.
Toss in the browned beef stew meat, plus add the potatoes, marjoram, oregano and salt and pepper to taste. Cover and continue to simmer for 2 to 3 hours or until beef is tender and pulls apart with a fork.
Instagram Post From our friends @SEATTLEBUTCHERSWIFE
This wonderful ribeye came from @masonhillcattle out of Oregon. 100% full blood Wagyu Beef. I grilled it up real quick last night on the Hasty-Bake portable charcoal grill. It was raining intermittently 
 But I got it done just in time.

Wagyu doesn't need much more than salt.
I built a direct & indirect cooking space with the charcoal. So I let it get to around 85° IT then I flipped the steak several times to get that sear and to temp it to 130°F. You really have to watch Wagyu over fire, the beef fat lights a heavy flame. And there may be fat edges on a ribeye that you may want to render or crust up a bit without overcooking the center of the ribeye. It's tricky and takes practice but totally worth it. I used compound butter and parsley on top with sea salt. Such a great meat treat!
Wagyu Legendary Quality comes from the sacred Japanese Lineage (pedigree) and how they are cared for.  Many stores sell beef that says Wagyu on the packaging but it is not always 100% Wagyu. From only having a small percentage of Wagyu in their cattle's Bloodline to living their whole lives in a factory farm? This is not the Wagyu Way! 

At Mason Hill Cattle we do things differently. From our Farm to your Door. No factory operation here.

Mason Hill Cattle's Top-Tier Wagyu Quality and Marbling come from our demand to start with 100% Full-Blood Wagyu. Plus, we give our Wagyu the stress-free life they deserve. Mason Hill Cattle's Full-Blood Wagyu are cared for in the Wagyu Way. "Wagyu is to be Treated like Royalty" in a Stress-Free environment, with the Right Feeds, no steroids, no growth hormones. All of this goes into Mason Hill Cattle raising and providing the best Wagyu in America. 
So many delicious Wagyu options to choose from.

STEAKS, ROASTS, BRATS, BURGERS, and More.
Order your Premium Wagyu Today. 
SERVE THE BEST BURGERS EVER. WAGYU BEEF BURGER
ON SALE NOW. 
The champion of burgers is made with Mason Hill Cattle Wagyu ground beef, Seasoned with Redmond salt and slathered with Slap Yo Daddy BBQ sauce! But it's also cooked on a flat top with a Finex cast-iron press!
Share your plate with @MasonhillCattle Wagyu on it for your chance to win special prizes and discounts. Tag us with your deliciousness.
Gift Cards
Help your friends and family eat better for 2022. Give them a gift card for WAGYU BEEF from MasonHillCattle.com.  If they've never tried before. Open up their world to the health benefits of Wagyu .