Wagyu Beef's Legendary Marbling & Quality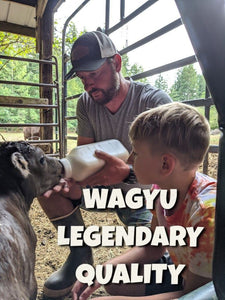 Wagyu Legendary Quality comes from the sacred Japanese Lineage (
pedigree) and how they are cared for
.  Many stores sell beef that says Wagyu on the packaging but it is not always be100% Wagyu. In fact, most stores sell American Wagyu which is only 50% Wagyu, crossbred with any other American cow. From only having a small percentage of Wagyu in their cattle's Bloodline to living their whole lives in a factory farm? This is not the Wagyu Way! 
At

 

Mason Hill Cattle we do things differently. 

From our Farm to your Door. No factory operation here. Only FULLBLOOD 100% REAL WAGYU from sacred Japanese WAGYU line.
Mason Hill Cattle's 
Top-Tier 
Wagyu Quality and Marbling come from our demand to start with 
100% Full-Blood Wagyu
. Plus, we give our Wagyu the stress-free life they deserve. 
Mason Hill Cattle's Full-Blood Wagyu are cared for in the Wagyu Way. "Wagyu is to be Treated like Royalty" in a Stress-Free environment, with the Right Feeds, no steroids, no growth hormones. All of this goes into Mason Hill Cattle raising and providing the best Wagyu in America.