Wagyu Burger Month with our Beyond Prime Wagyu Beef! 🥩 Wagyu Burger & Wagyu Beef Bacon On Sale Now!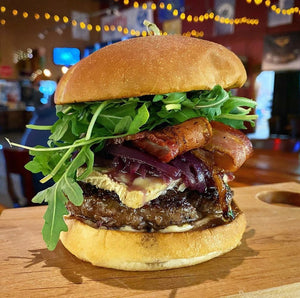 Get ready to tantalize your taste buds and elevate your burger game to new heights because it's Wagyu Beef Hamburger Month! And there's no better way to celebrate this delicious occasion than with Mason Hill Cattle's extraordinary Full Blood Wagyu beef.
At Mason Hill Cattle, we take immense pride in offering you the finest Full Blood Tajima Wagyu beef, sourced from our meticulously bred and raised Japanese Wagyu cattle. Our commitment to genetic purity ensures that each bite of our Wagyu beef is a journey into flavor paradise.
Why choose our Full Blood Wagyu for your burgers?
Unrivaled Flavor: Experience a taste sensation like no other. The exceptional marbling in our Full Blood Wagyu enhances the flavor profile, creating a melt-in-your-mouth burger that is both rich and nuanced. The natural buttery texture and slight sweetness of our Wagyu beef will leave you craving for more.

Superior Tenderness: Prepare yourself for a burger experience that transcends your expectations. The intricate marbling of our Full Blood Wagyu guarantees an unparalleled tenderness that will make every bite an indulgent pleasure. Get ready to savor a burger that practically dissolves on your tongue.

Premium Quality: Our commitment to quality is unwavering. We ensure that our Full Blood Wagyu is raised in a stress-free environment and given the highest level of care. The result is a beef product that is free from antibiotics and hormones, and produced with utmost respect for animal welfare and sustainability.
Celebrate Wagyu Beef Hamburger Month with Mason Hill Cattle:
To commemorate this special occasion, we are offering an exclusive promotion throughout the month. When you order our Full Blood Wagyu beef for your hamburgers, you'll receive a complimentary jar of our signature Wagyu burger sauce—a delectable blend of savory spices and secret ingredients that perfectly complements the exquisite flavors of our beef.
To place your order and embark on a Wagyu burger adventure, simply visit our website at www.masonhillcattle.com. We offer a variety of cuts, including ground Wagyu beef, to suit your burger-making preferences.
Don't miss out on this opportunity to take your burger experience to unprecedented levels of taste and quality. Treat yourself, your friends, and your family to an unforgettable gastronomic journey with Mason Hill Cattle's Full Blood Wagyu.
Thank you for being part of our Wagyu beef journey. We look forward to serving you and satisfying your culinary desires.
Sincerely,
Jason and Our Mason Hill Cattle Family