Wagyu Burger & Wagyu Bacon Onsale Now!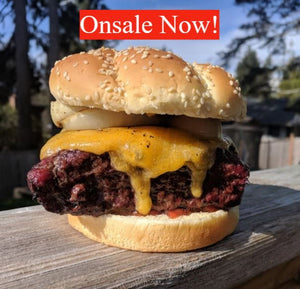 100% FULL-BLOOD PREMIUM WAGYU From Our Farm to Your Door. 
Wagyu Burger & Wagyu Bacon Onsale Now!
Our Wagyu Beef Bacon is the perfect match for our Wagyu Burger.  Bring in spring with mouthwateringly delicious burgers featuring MHC's Wagyu. 100% Fullblooded Wagyu raised in the Pacific Northwest.   
Wagyu Cheesesteak
Spring Roll Recipe
Featuring Wagyu Chuck Roast
Onsale Now!
A new American Wagyu classic? Why not? Cheesesteak spring rolls are just one of the innovative recipes on our website. We've got a great dish for all of our Wagyu beef cuts. If you're feeling like trying something new or just wanting a great way to cook up a classic. But seriously let's talk more about these crispy, cheesy and beefy spring rolls that @stew.be.cue whipped up.
Follow us on Instagram
@MasonHillCattle for amazing recipes, specials, or to share your favorite Wagyu creations with us. 
Instagram Post From our friends @avbpub
・・・
This week's Wagyu: @masonhillcattle Wagyu patty topped with fresh mozzarella, pepperoni, spicy marinara, basil, and garlic.
WE HAVE THE WAGYU!
ALL WAGYU JUST RESTOCKED
Wagyu Legendary Quality comes from the sacred Japanese Lineage (pedigree) and how they are cared for.  Many stores sell beef that says Wagyu on the packaging but it is not always 100% Wagyu. From only having a small percentage of Wagyu in their cattle's Bloodline to living their whole lives in a factory farm? This is not the Wagyu Way! 

At Mason Hill Cattle we do things differently. From our Farm to your Door. No factory operation here.

Mason Hill Cattle's Top-Tier Wagyu Quality and Marbling come from our demand to start with 100% Full-Blood Wagyu. Plus, we give our Wagyu the stress-free life they deserve. Mason Hill Cattle's Full-Blood Wagyu are cared for in the Wagyu Way. "Wagyu is to be Treated like Royalty" in a Stress-Free environment, with the Right Feeds, no steroids, no growth hormones. All of this goes into Mason Hill Cattle raising and providing the best Wagyu in America. 
So many delicious Wagyu options to choose from.

STEAKS, ROASTS, BRATS, BURGERS, and More.
Order your Premium Wagyu Today. 
SERVE THE BEST BURGERS EVER. WAGYU BEEF BURGER
ON SALE NOW. 
The champion of burgers is made with Mason Hill Cattle Wagyu ground beef, Seasoned with Redmond salt and slathered with Slap Yo Daddy BBQ sauce! But it's also cooked on a flat top with a Finex cast-iron press!
Share your plate with @MasonhillCattle Wagyu on it for your chance to win special prizes and discounts. Tag us with your deliciousness.
Gift Cards
Help your friends and family eat better for 2022. Give them a gift card for WAGYU BEEF from MasonHillCattle.com.  If they've never tried before. Open up their world to the health benefits of Wagyu .
| | | |
| --- | --- | --- |
| Free Shipping on Orders over  $299.00 | | |
Thank you for being a member of the HERD.  
Being a member of the Herd gets you exclusive early access to our Wagyu inventory before it sells out.   We appreciate you being a part of our Wagyu family. Look for advance emails for select Wagyu available to members of The Herd first. Coming soon!
No longer want to receive these emails? Unsubscribe.
Mason Hill Cattle PO Box 567 North Plains, Oregon 97133