Wagyu for St Patrick's Day! Recipes, Specials and more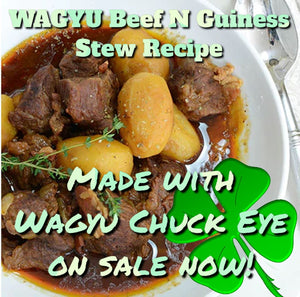 | | | |
| --- | --- | --- |
| | Ground Wagyu Burger (1lb portion) | Wagyu New York Strip Steak |
| | | |
| --- | --- | --- |
| | Wagyu Ribeye Boneless Steak | Wagyu Chuck Eye Boneless Steak |
New product Alert!
The Highly Marbled
Cross Rib Steak
Who's ready for something new... how about this MHC Exclusive Cross Rib Steak!? Crazy marbled goodness. Get yours today while supplies last. Free local delivery and free UPS shipping nationwide on orders of $299.00 and up. 
YOUR LUCKY CHARM THIS ST PATRICKS DAY.
 WAGYU CHUCK EYE <SHOP NOW
INGREDIENTS
2 lbs Wagyu Chuckeye Roast    or another wagyu roast
4 tbsp. butter
1 large sweet onion, chopped
3 raw strips of bacon, chopped into 1/4 inch strips (Try MHC Beef Bacon)
2 tbsp. tomato paste
2 tbsp. all-purpose flour
1 Guinness Extra Stout beer
3 cups beef stock
6 small yellow potatoes, washed, peeled and uncut
1 tbsp. dried marjoram
½ tbsp. dried oregano
Salt and pepper to taste
Hearty bread

DIRECTIONS
Heat a large pot or Dutch oven and melt the clarified butter on medium-high. Add the MHC Wagyu Beef (cut to size) and brown, stirring to make sure all sides are cooking evenly. Remove the meat from the pot, leaving the butter and oil drippings.
Toss in the onions, bacon, tomato paste and flour to the pot, stirring with a wooden spoon making sure the onions don't burn. Once the onions become transparent - about 3 to 5 minutes - reduce fire to low and simmer. Add the beer and beef stows slowly - this will prevent flare ups. Continue to stir until combined.
Toss in the browned beef stew meat, plus add the potatoes, marjoram, oregano and salt and pepper to taste. Cover and continue to simmer for 2 to 3 hours or until beef is tender and pulls apart with a fork.
Wagyu Legendary Quality comes from the sacred Japanese Lineage (pedigree) and how they are cared for.  Many stores sell beef that says Wagyu on the packaging but it is not always 100% Wagyu. From only having a small percentage of Wagyu in their cattle's Bloodline to living their whole lives in a factory farm? This is not the Wagyu Way! 

At Mason Hill Cattle we do things differently. From our Farm to your Door. No factory operation here.

Mason Hill Cattle's Top-Tier Wagyu Quality and Marbling come from our demand to start with 100% Full-Blood Wagyu. Plus, we give our Wagyu the stress-free life they deserve. Mason Hill Cattle's Full-Blood Wagyu are cared for in the Wagyu Way. "Wagyu is to be Treated like Royalty" in a Stress-Free environment, with the Right Feeds, no steroids, no growth hormones. All of this goes into Mason Hill Cattle raising and providing the best Wagyu in America. 
SERVE THE BEST BURGERS EVER. WAGYU BEEF BURGER
ON SALE NOW. 
The champion of burgers is made with Mason Hill Cattle Wagyu ground beef, Seasoned with Redmond salt and slathered with Slap Yo Daddy BBQ sauce! But it's also cooked on a flat top with a Finex cast-iron press!
Thank you for being a member of the HERD.  
Being a member of the Herd gets you exclusive early access to our Wagyu inventory before it sells out.   We appreciate you being a part of our Wagyu family. Look for advance emails for select Wagyu available to members of The Herd first. Coming soon!
No longer want to receive these emails? Unsubscribe.
Mason Hill Cattle PO Box 567 North Plains, Oregon 97133