Wagyu for Two this Valentines Day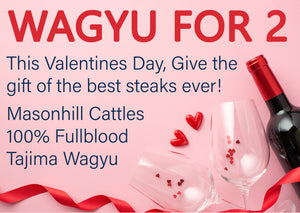 Thanks for being apart of The Herd!
 As a Herd Newsletter Member, You receive Advance Notice when there is newly processed Inventory, early access to special coupon codes. Plus, Herd Only Offers & Discounts. We do this to allow Herd members to get their Wagyu before it sells out. As you already know, Real Full Blood Wagyu is always in short supply. 
 Full Blood Wagyu takes extra time, love & care. Real Wagyu is never a factory farm operation. Never mass produced. The Wagyu Traditions & steps we follow, all help Masonhillcattle produce some of the best beef on the planet and the best Wagyu Beef in the USA.

 At Masonhillcattle we slow-raise Only 100% Full Blood Wagyu from the highly revered Tajima Bloodline. 
Valentine's Wagyu for Two
With Tajima Wagyu Steaks. Whether it's a Ribeye, New York, or Filet Mignon. Nothing compares to a real 100% full-blood Tajima Wagyu steak. Treat your special someone to the best steaks ever! Tajima Wagyu Steaks!
Our Favorite Roast Recipes
Prime rib with a Wagyu Chuck Roast. Yes, a Chuckeye cooked like prime rib. The Wagyu makes all the difference. Or how about a Wagyu Beef Wellington, or a Chimichurri recipe (photo pictured)? Check out these and more recipes.