WE HAVE THE WAGYU! ALL WAGYU JUST RESTOCKED (To THE HERD NEWSLETTER. ADVANCED NOTICE. 2.25.2022)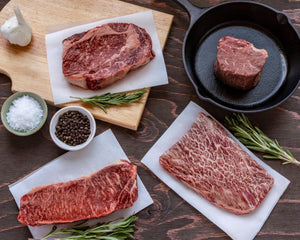 WE HAVE THE WAGYU!
ALL WAGYU JUST RESTOCKED
Have you tried our Wagyu Tom & Jerry Steak? This is a fantastic, large steak for a family or small group. Easily grilled with a little salt and pepper, or beautifully braised. For a fun twist, break it down into multiple steaks with the bonus Bone Marrow included! The TJ Steak is processed from the round primal; this is a leaner cut of beef, but still comes with some wonderful Wagyu marbling.
Here's your Wagyu of the Week: @masonhillcattle Wagyu patty topped with cheddar cheese, tortilla strips dressed in pico de gallo & crema, jalapeño cilantro aioli, and shredded lettuce.
So many delicious Wagyu options to choose from.

STEAKS, ROASTS, BRATS, BURGERS, and More.
Order your Premium Wagyu Today.